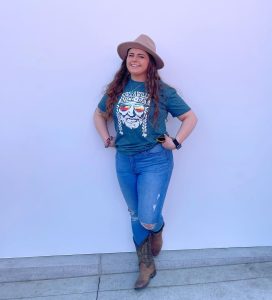 Weekdays, 10am-2pm
Email – [email protected]
Hi, I'm Ty!!
Minnesotan by way of my parents, Wisconsinite by way of my heart and stomach, but Midwesterner by fate. My favorite words are "Ope!" "Uffda" and "Roll Out the Barrel!" I attended high school surrounded by both corn and football fields in Caledonia, Minnesota, where I learned how important backroads and good ol' country music are to small town kids, just like Hank, Waylon, and Joe Diffie intended. Country music has been my life for as long as I can remember. I was going backstage at concerts with my mom's friends since before I could walk or sing along. When I grew up I wanted to be a country singer down on Music Row, as well as a marine biologist, archaeologist, pharmacist, and mortician. Jack of all trades really.
I cannot wait to get to know everyone in COW Country! Thank you for tuning in to this young gun trying to find her way in the Midday. Shoot me an email and tell me what you're thinkin' about. [email protected]
Favorite place to hang out when not working…
In bed, covered in upteen blankets, fans blasting, and watching Cars for the 18,000th time.. (Mack?? I ain't no Mack, I'm a Peterbilt for dang's sake!)
Dirty Little Secret…
I didn't know how to tie my shoes or skip until I was in upper middle school… I still avoid doing both, especially at the same time. It's a mess.
If they were to make a movie about you, who would play you and what would the title be?
Aidy Bryant (from SNL) and "I Don't Really Know How I Got Here, But I'm Here." It'd be a romantic comedy for sure.
What's your go-to karaoke song?
Trust me, you don't want to hear me sing.. but I'm pretty good at "Ice, Ice, Baby" by Vanilla Ice or "Giddy On Up" by Laura Bell Bundy in the shower. I've also been on stage in the beer tent Friday of Oktoberfest more than once singing "Alice" with The Swing Crew… but that's a story for another day. (Alice! Alice?)
What's your guilty pleasure?
I love going on YouTube and watching videos of people riding the Disney World/Universal Studios rides and holding my phone close to my face, pretending it's me that's on those rides. I think my favorite is Jurassic World or Splash Mountain, and I've never even been to Florida!