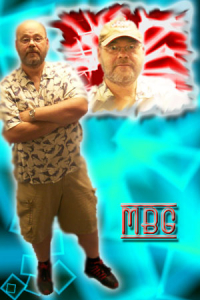 Who is Mike…
Let's see….I was born in a manger in Rock County, WI back when Dwight Eisenhower was president. It was dark. On our family farm we raised various crops and occasional livestock. I began driving tractors at the age of five. Hit my first tree at the age of …uh five. Our best crop was rocks. We always picked 'em in the spring. Those buggers kept coming back. And we were always fencing. Had to make sure that corn we planted didn't uproot itself and run away.
I barely remember the 70s. Must have been fun, I hope. Have worked in radio since 1979. I've been married to Theresa since 1981 and have two great sons, Max and Colin. In fact they turned out a lot better than me. I don't know what I want to be when I grow up. I live in a state of insanity, confusion and all-around hallucination.
Mike has been twice named Best Radio Show by the Wisconsin Broadcasters Association.
Fun Facts About Mike… 
Favorite COW97 Moment …
way too many and none involve nakedness

Favorite place to hang out when not working …
my house
Dirty Little Secret…
HA! I know why I don't remember the 70s and I'm not telling
Favorite charity…
locally, it's the Area Community Theatre
Favorite Wisconsin Sports Team…
Badger football and Packer football and any area high school wrestling
What did you want to be as a kid…
Veterinarian
What cartoon character or superhero would you like to be and why…
Superman. Cause he's Superman for god's sake! C'mon! You get to wear your underpants outside of your clothes.
If they were to make a movie about you, who would play you and what would the title be…
Tommy Lee Jones and the title, "THE GUY CALLED…" or "GO LAY BY YOUR DISH"
If you could meet anyone famous, dead or alive, who would it be and why…
Way too many to list. Lincoln would be good. G. Washington too, as well as my grandfather and various other historical figures.
Cause they're all historical!
What are 3 things you can't live without…
my wife, my sons, my good tasting beer.